Quality valve systems from Emerson AVENTICS reduce the critical path of your project and ownership costs with their modular, high-performance design. The G3 electronic Fieldbus system is the ideal replacement for conventional hardwire solutions. The Emerson G3 is easy to assemble, install, commission, and maintain. It is the only electronic manifold with a graphical display for configuration, commissioning, and diagnostics.
G3 Electronic Fieldbus Valve System
The G3 valve system allows programmable logic controllers to turn valves on and off more efficiently. It also channels I/O data from sensors, lights, relays, individual valves, or other I/O devices via various industrial networks. This connectivity is helpful with the enhanced diagnostic capabilities of the valve systems, which help users identify problems earlier and results in less downtime.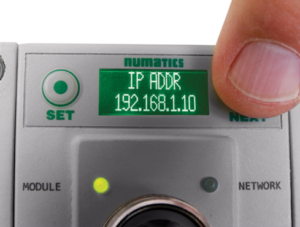 The G3 has a flexible architecture that scales up along with your system's requirements. The modular system is easy to modify if the machine or process is changed in the future, saving equipment costs and reducing the overall footprint. Users can also avoid extended production downtime with the plug-and-play valves. The valves are compact and offer the highest flow rate for their size, further reducing the machine footprint and costs.
The unique graphical display on the G3 provides plain language diagnostic information, which makes faults easier to diagnose. The display also simplifies integration with its clear commands. Users have access to valve health information via Ethernet and Fieldbus connectivity. This information helps maintenance identify faults earlier and proactively schedule maintenance to avoid lengthy downtime.
Users have the option to order their valve systems pre-assembled. The ready-to-install systems help ensure your projects get started on time and with ease.
Standards / Regulations: ATEX Zone 2-22, CSA, UL
Operating Environment: Indoor, Outdoor
Auto recovery module (ARM) protects configuration data during a critical failure
Wireless ARM allows access to vital valve system diagnostics and health monitoring via WiFi connection
DeviceNet, Ethernet IP, Profibus, Profinet, and Powerlink Fieldbus connectivity
AVENTICS – now the third largest pneumatics manufacturer in the world
Shortly after acquiring AVENTICS, Emerson made the decision to merge their legacy pneumatics brand, numatics, under their new AVENTICS line. AVENTICS now has the widest range of proportional technology on the market. Their product offering includes actuators, valves, air preparation units, and smart IIoT devices. AVENTICS' capabilities for integrated solutions, technical support, online tools, and engineering have also expanded. Morrell Group utilizes AVENTICS' pneumatic components in innovative motion control solutions for industrial and mobile partners.
Valve Systems and Directional Control
Proportional Valves
Cylinders and Actuators
Air Preparation
For more information about the AVENTICS G3 valve system, visit their website.